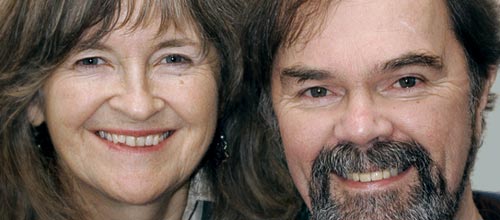 the Directors
Denis Donnelly
Denis became seriously interested in music during the folk boom of the 1960s, and that aesthetic of group singing infuses his approach to music to this day. Denis recognizes the power and joy that can come from singing and making music together. He graduated from the University of Victoria in 1976 with a music degree (with Distinction) and then went on to the 1,400-student Victoria Conservatory of Music, where he was the Executive Director for 15 years, leaving in 1999 in order to pursue his own musical callings. Denis sings and plays guitar, Irish harp, Renaissance lute, and piano.
He has been associated with a number of choirs as arranger and conductor, and for 20 years was co-director (with Siobhan) of the Gettin' Higher Choir which reached up to 300 members, as well as directing Soundings, a 28-voice auditioned vocal ensemble. He is also in demand as a workshop leader where he brings his love of community singing to people who may or may not have any prior choral experience. Denis' choral arrangements are ideally suited to community choirs.
Cathy Baker
Cathy grew up in a musical family, and has always loved singing in harmony. She has sung and played numerous instruments with many performing groups over the years, including the a cappella Arioso Trio and several seasons with the GHC. Cathy is in demand for leading song circles and group singing workshops in the region. A graduate of the Community Choir Leadership Training program in 2016, she began co-directing the GHC a year later, including leading choir members at several "Sing When Asked To (SWAT)" community events, and helping to develop choral arrangements and videos.
Dick Jackson
Dick has been involved in musical groups nearly all his adult life, and has learned from the many excellent leaders of choirs, bands and opera chorus groups he has been in. He has led small musical combos over the years and has been Music Director of the Capital Unitarian Universalist Congregation since 2009. Since completing the Community Choir Leadership Training program in 2017, he has been co-directing the GHC, accompanying the choir with percussion and piano, arranging choral music, handling Zoom technology, and producing virtual choir videos.
Director Emerita: Siobhan Robinsong
From leading her first song, Siobhan knew she had finally found her instrument. Growing up as a non-prodigy in an intensely musical family, Siobhan often felt she must be the "unmusical one." Now a celebrated choir director, she has a joyful and inclusive approach to music.
Siobhan has a degree in psychology from the University of Manitoba, and a Certificate in Adult Education, from Red River Community College. After some years of teaching and counseling adults in Winnipeg, she moved to Cortes Island, BC, where she co-founded Hollyhock, Canada's leading holistic learning centre. At Hollyhock, she trained with Susan Osborn, David Darling, Frankie Armstrong, Ann Mortifee, Ysaye Barnwell, Rhiannon, Chloe Goodchild, and Russill Paul — who all emphasized that singing is for everyone. In 1994, she started the Cortes Island Community Choir.
Moving to Victoria two years later, she founded the non-auditioned Gettin' Higher Choir, which grew steadily to over 300 people. In Siobhan's many singing workshops keynote speaking at conferences throughout North America, she has reconnected thousands of people with the joy of singing. As of 2020, Siobhan has retired from active involvement in CCLT.